OFFICIAL DROP-OFF LOCATION for AMillionThanks.org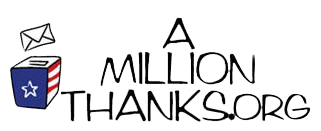 A Million Thanks is a year-round campaign to show appreciation for our U.S. Military Men 
and Women, past and present, for their sacrifices, dedication, and 
service to our country through our letters, emails, cards, and prayers.
Don't forget once you have collected your letters or cards just place them all in ONE BIG envelope then drop them off at  ANY of our Auto Group Locations. We will take care of the rest! 
If you don't live nearby one of our locations, please mail your cards or letters directly to:  
A Million Thanks
17853 Santiago Blvd. #107-355
Villa Park, CA 92861
We at Dick Scott Automotive Group are so thankful to all our service men and women and this is just one of the ways we try to give back to those fighting for us every day!