---
Dick Scott is Working in Your Community to Make A Difference!

Scroll down for a complete list of currently participating schools, groups and organizations

TOTAL SCHOOLS ENROLLED TO DATE:  58


At Dick Scott Automotive Group we realize how important it is to find new and innovative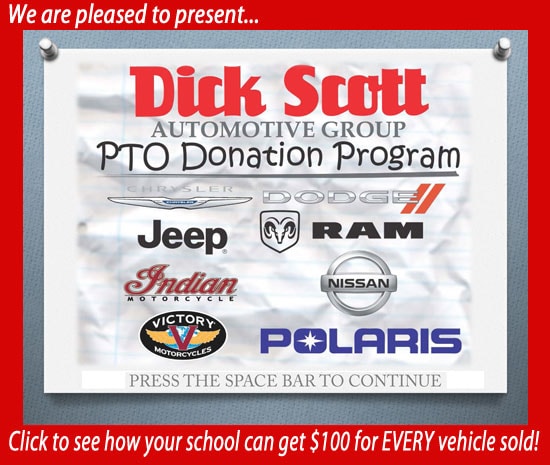 ways to enable parents and guardians to support their children's education and extracurricular activities. That's why in 2009, we created a program called "Dick Scott DonationVouchers " as a painless way to help. Since that time, the program has been expanded to include other area groups and organizations!



How does it work?


Once you are signed up for the program: Whenever a friend, neighbor or family member mentions they are in the market for a new or pre-owned vehicle, you give them a Donation Voucher and ask them to shop a Dick Scott Automotive Group location first! When they find their vehicle (after shopping our huge inventory of New and Pre-owned Cars, Trucks, SUV's, Motorcycles, Scooters and ATV's), they simply present their voucher at the time of purchase. Once the sale is complete, your school, group or organization receives a check for $100!   



Is there a limit on much we can earn?


There is no limit on how much a school, group or organization can earn.



How do I get

copies of my Donation Voucher?


Copies of vouchers can be found on all of our websites as well as under "Photos" in an album called "Dick Scott Fund Raising" on both of our Facebook pages: http://www.facebook.com/DickScottClassicMotorcycles and http://Facebook.com/DickScottAutomotiveGroup.



How do I sign up?


If you are interested in signing up for a new, hassle-free way to raise funds for your school, group or organization, click "Sign me Up! Once we receive your form, we will create your Donation Voucher and contact you with more information. 


---
Attention:  To PRINT additional DONATION VOUCHERS, simply click on the name of your School, Group or Organization!
(Visit us @ DickScott.com to locate the Dick Scott Automotive Group location near you.)
---